Hong Kong's first offshore LNG receiving terminal officially opened
2023-07-22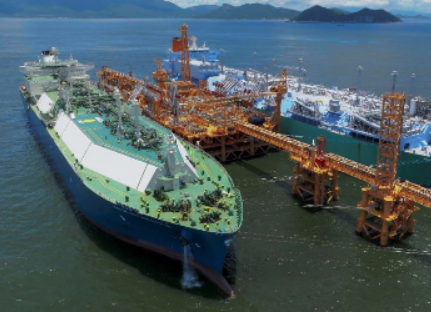 On July 13, the first offshore LNG receiving terminal in Hong Kong, jointly developed and built by CLP Power and Hongkong Electric Co., Ltd. (HK Electric), was officially put into operation.
CLP and HK Electric announced that the first batch of LNG supplied to Hong Kong under a long-term supply agreement has arrived at the receiving terminal a few days ago. After unloading, it is stored in the world's largest large floating storage regasification unit (FSRU) "Bauhinia Spirit".
The offshore LNG terminal located in the southwest waters of Hong Kong is the first facility of its kind in Hong Kong. At present, the world's largest FSRU "Bauhinia Spirit" has an LNG storage capacity of 263,000 cubic meters and will be moored at the receiving station for a long time to receive, store and regasify LNG.
Previously, CLP and HK Electric had signed a long-term LNG supply agreement with Shell Eastern Trading (Pte.) Ltd., a subsidiary of Shell. With the completion and opening of the receiving terminal, Shell has begun to provide LNG from all over the world for the two power plants. The first batch of LNG arriving at the receiving terminal. About 139,000 cubic meters of LNG arrived at the receiving terminal in the first batch, enough to provide electricity for about 1.5 million households in Hong Kong.
According to the International Shipping Network, the "Bauhinia Spirit", formerly known as the "MOL FSRU Challenger", was built by South Korea's Daewoo Shipbuilding (now renamed Hanwha Marine) and delivered in 2017. The ship is 345 meters long and 55 meters wide. It can store 263,000 cubic meters of LNG and has a regasification output capacity of 800 million cubic feet per day. It is the largest FSRU in the world. Last year, the vessel underwent upgrade work at Keppel Shipyard in Singapore.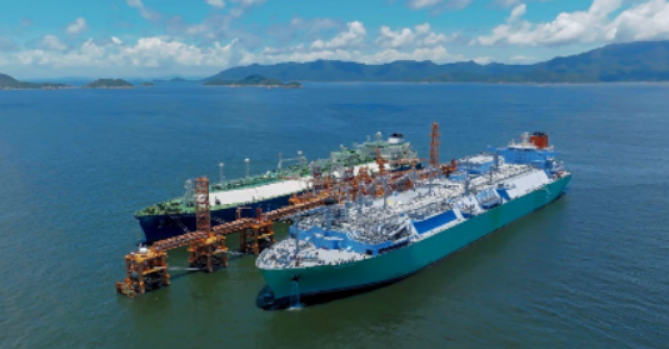 Luo Jiajin, President of CLP, said: "The offshore LNG receiving terminal project is an important facility to support Hong Kong in achieving carbon neutrality and strengthening gas supply security by 2050. This really depends on the close cooperation of the project teams formed by the two power companies and the contractors to overcome various difficulties in offshore construction projects, especially the severe tests and challenges brought about by the new crown epidemic, so that this largest offshore energy infrastructure in Hong Kong in recent years can be put into operation."
"This newly completed strategic natural gas facility allows us to introduce competitively priced LNG from the international market, which will help fuel supply become more diverse, flexible and stable, and ensure Hong Kong's orderly transition to carbon neutrality and implement the goal of addressing climate change. CLP will actively cooperate with the government's carbon reduction policy to accelerate energy transformation, and continue to explore through local projects and regional cooperation to introduce more zero-carbon energy, reduce the carbon intensity of power supply, promote electrification, and assist customers in energy conservation and emission reduction."
Cheng Zuying, Managing Director of HK Electric, pointed out: "HK Electric has always fully supported the Hong Kong government's carbon reduction target in 2035. The offshore LNG receiving terminal project can further enhance the safety and stability of fuel supply. Coupled with the new gas-fired unit L12 that will be put into operation in 2024, HK Electric's carbon reduction journey is moving forward steadily. In addition, after the completion of the project, the source of natural gas supply will become more diversified, which will help us increase our bargaining power in purchasing natural gas."
"The challenges faced by offshore construction projects are particularly daunting. We are very grateful for the support from different stakeholders, especially the assistance provided by the mainland and Hong Kong governments at different stages of the project, including planning, construction and commissioning, to enable the project to be completed smoothly. In order to cooperate with the government to achieve carbon neutrality by 2050, HK Electric will continue to actively pay attention to innovative advanced technologies, including hydrogen power generation, and remain open to other suitable zero-carbon power generation solutions."
It is understood that in order to cooperate with Hong Kong's climate action blueprint 2030+ and support Hong Kong to increase natural gas power generation, considering environmental protection and the scarcity of land resources in Hong Kong, both CLP and HK Electric believe that the use of FSRU technology to build an offshore LNG receiving terminal in Hong Kong will not only improve energy reliability in the long run, but also help enhance Hong Kong's competitiveness in obtaining natural gas supply in the global market.
In early May 2016, CLP Holdings announced that it plans to build Hong Kong's first offshore LNG receiving terminal in Hong Kong waters. In April 2019, after three years, the Hong Kong Special Administrative Region Government finally approved Castle Peak Power Co., Ltd. and Hong Kong Electric Co., Ltd. to construct and operate FSRU in the waters east of the Shek Kwu Islands. The wharf of the receiving terminal is designed with double berths, which can berth one FSRU and one LNG carrier. After regasification, the LNG in the FSRU will be transported to the gas receiving stations of the Lung Kwu Tan Power Plant and the Lamma Power Plant through two independent subsea natural gas pipelines. In April 2020, COOEC signed the general contract for the Hong Kong Offshore LNG Receiving Station, with a total contract value of 4.691 billion Hong Kong dollars, or about 4.283 billion yuan at the time.