What Are the Requirements for Navigation Lights on a Marine ?
2023-09-07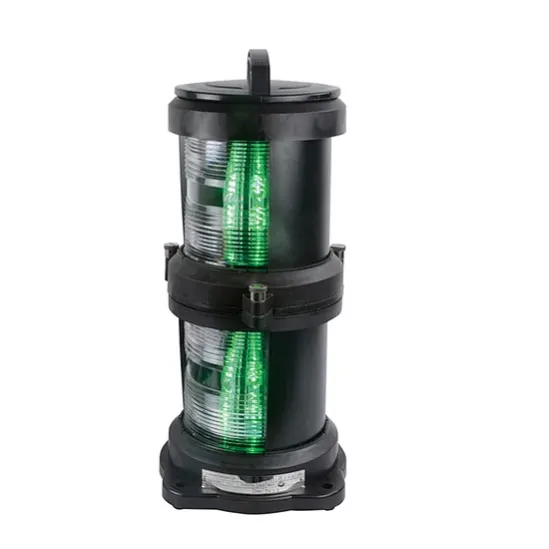 The boat / marine navigation light, also known as a boat / marine signal light, is used to show the state of ship sailing or parking, which can indicate the navigation direction at night and the size of the ships. Some navigation lights are colour-coded red and green to aid traffic control by identifying the craft's orientation. Their placement is mandated by international conventions or civil authorities such as the International Maritime Organization (IMO).It is an important basis for ships to adopt avoidance measures and effectively avoid collisions among ships, especially at night or in poor visibility.
According to the International Regulations for Preventing Collisions at Sea require:
The side lights of ships with a length of 20 meters or more should be equipped with matte black inner side shields and comply with the requirements of Section 9 of this appendix.
On ships, matte black inner fenders are generally achieved by applying matte black paint, so it is necessary to regularly check whether the matte black paint on the fenders of the ship's side lights is complete and clean them properly.
Introduction to the advantages and types of marine lighting fixtures
Generally speaking, as a product used for marine lighting fixtures, the first point is to ensure that the quality of the product is stable and reliable enough, with performance being the top priority. Then, in terms of style, the following editor will introduce the advantages and types of marine lighting fixtures for everyone to choose from in the future.
Advantages of using marine lighting fixtures:
1. Strong seismic resistance
Marine lighting fixtures, due to their good packaging structure and resistance to detachment, can withstand long-term use in environments with high vibration forces on board. In addition to the unique structure of marine lighting fixtures, which can withstand large shaking and vibration on board, the unique epoxy resin material of the lighting fixtures also has strong seismic resistance. As long as a suitable fixed structure is used in the design of marine lighting fixtures, it can ensure smooth use in shipboard environments with low vibrations.
2. Comprehensive functionality
Marine lighting fixtures, due to their rich color temperature, can create lighting effects according to different environmental requirements on board, meeting the different needs of crew members during use. Soft light can effectively dispel fatigue and tension during navigation, and is installed in the cabin or bedroom to improve sleep quality. Moreover, marine lighting fixtures can also serve as signal lights to convey different messages, providing effective navigation guidance for crew members during navigation.
3. Green and environmentally friendly with high safety
Marine lighting fixtures have extremely high safety during use, as they use LED light sources that do not break or emit toxic substances. Moreover, the packaging effect is good and there is no leakage or damage caused by moisture. Moreover, marine lighting fixtures have no noise or radiation during use, which will not affect physical and mental health during use.

Types of marine lighting fixtures:
1. Ceiling lamp
Generally speaking, the commonly used ceiling lights include square cover ceiling lights, round ball ceiling lights, pointed flat round ceiling lights, half round ball ceiling lights, half flat ball ceiling lights, small rectangular cover ceiling lights, etc. Marine lamp manufacturers introduce that ceiling lamps are usually more suitable for use in various rooms, and rooms with different functions can be installed in this way to achieve lighting effects. Marine lamp manufacturers emphasize that as long as there is a ceiling mounted on it, it is very easy to install and the style is also very generous.
2. Energy saving lamp
The most widely used type of energy-saving lamp among marine lighting fixtures is this one, which has superior brightness and lifespan compared to ordinary incandescent bulbs, especially in terms of power saving. High quality marine lighting manufacturers introduce energy-saving lamps such as U-shaped, spiral, petal shaped, etc., with power ranging from 3 watts to 40 watts. Energy saving lamps can generally be installed in lamps such as down lamps, pendant lamps, and ceiling lamps.
3. Wall lamp
The commonly used wall lamps introduced by marine lighting manufacturers include double ended magnolia wall lamps, double ended olive wall lamps, double ended drum wall lamps, double ended lace cup wall lamps, jade pillar wall lamps, mirror front wall lamps, etc. Manufacturers of branded marine lighting fixtures recommend that their installation height can be adjusted as needed. And in the market, this product is relatively affordable and has a variety of styles, making it very popular.
What are the 5 navigation lights?
The range of Navigation lights
Masthead light- 6 miles.
Sidelight-3 miles.
Sternlight-3 miles.
Towing light-3 miles.
A white, red, green or yellow all-round light-3 miles.
Maintenance suggestions:
1. Regularly test the signal lights on the navigation lights and signal light control panel on the bridge for normal operation, and regularly verify the actual operation of the signal lights.
2. Regularly check all navigation lights and signal lights for damage or water leakage, and clean the lampshade to ensure the visibility distance of the signal lights.
3. Regularly check whether the baffle of the navigation lights is intact to ensure that the luminous angle and horizontal arc meet the requirements.
4. Regularly check whether the inner shield of the side lights and the matte black paint on the inner wall of the light box are complete and effective.
5. When repairing or replacing navigation lights, qualified marine products should be used, and it is important to remember to mix signal lights.
6. Provide regular training for duty drivers and sailors, correctly use signal types, and effectively monitor the working status of signal lights.
CXH-101PL Series LED Type Marine Double-Deck Navigation Signal Light, the shell is made of high-strength engineering plastic PA+GF, the lampshade adopts injection of PC, lens hood adopts good quality stainless steel. If you want to find the complete range of Marine signal lights on Wenzhou Bozhou Marine Electrical Co., Ltd. please contact us as soon as possible!