Most Cost-effective Remote Control Marine Searchlight TG26/27/28 Series
2022-09-12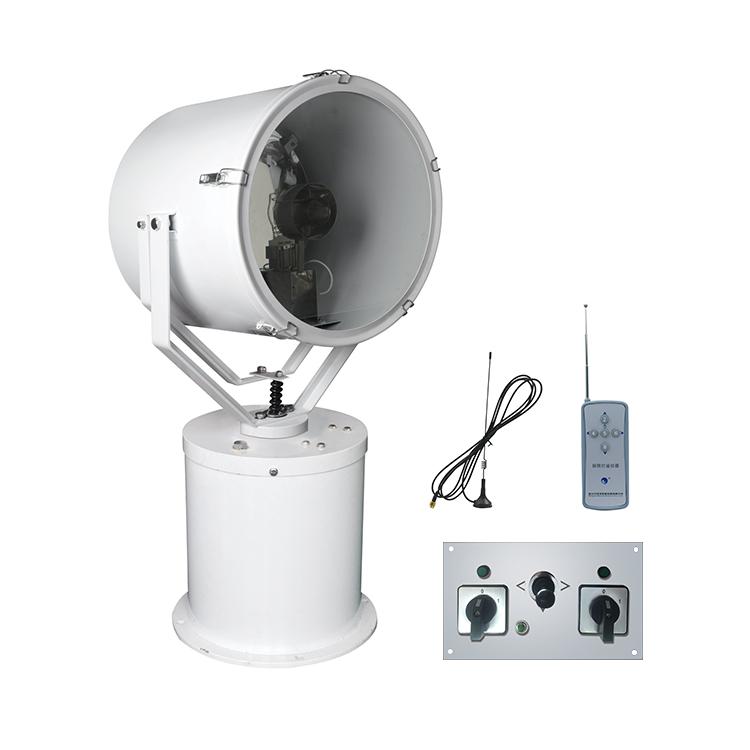 TG27-A type marine search light is the most cost-effective remote control searchlight manufactured by Bozhou Marine. Multi-purpose searchlight, suitable for many types of ocean-going vessels.
The shell, bracket and base are made of S.S. 304, with toughened glass lampshade, adopt imported electrical machine.
Applied to far distance illumination and searching when night navigation, especially for illumination of sea-route and two banks and surface search when across the complex water area, such as narrow channel, the inland riverway and etc.
Available with a 110/220VAC 1000W halogen bulb, it has a range between 500 and 700 meters. The Wireless Remote controller is used for operation from any places on the vessel. The searchlight can rotate 350°horizontally and 20°up, 50° down.
The TG27-A wireless remote control marine searchlight certificated by ABS and CCS. More national authorities and classification societies such as IMO, USCG, ABYC, NMMA, British MCA, Canadian DOT, RINA are in plan.
There are also manual type marine search lights from same series, TG27-B and TG27. TG27 is equipped with joystick, the searchlight can be adjusted by joystick flexibly. In addition, there are different watts halogen search light available for customers, like TG26 series: 250W/300W/500W, and TG28 series: 2000W, can be ordered by IMPA code 370481 / 370482. The irradiation distance of 2000 watts will be farther, between 800 and 1200 meters. All of TG series marine search lights from Bozhou Marine have been certified.
Select the searchlight suitable for you from TG/TZ/TS series (volt, watt, range, size and design). Halogen searchlight is very very traditional in shipping. In contrast to the LED variant, halogen is a cheaper alternative, but its use has a higher consumption.