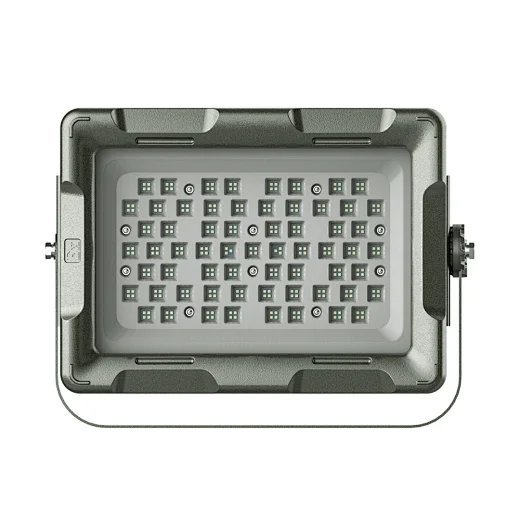 70-240W ATEX LED Explosion-proof Flood Light - BZFT8260
BZFT8260
Minimum order quantity:
1
1. The original imported LED light source is used, with an aver age service life of up to 100000 hours. Using the latest technology wide voltage
processing, which can achieve constant current output, with short-circuit and overvoltage protection functions, greatly improving the
service life of the lamp.
2. The radiator is treated by high-voltage electrostatic spraying, which is more conducive to thermal radiation. The explosion-proof electrical
box and lamp head are designed in two chambers. The large space size ensures the assembly of various large-scale electrical appliances.
The heat dissipation performance is excellent, so that the temperature rise of LED chip and power supply is reasonably controlled within a
reasonable range, and the service life of lamps is greatly guaranteed.
3. The light projection is even and soft, especially suitable for all kinds of places where the light needs to be cast and flfl oodlight is used as fifi xed
lighting. The interior of the lamp body adopts anti-seismic materials and damping structure, which can work in various high frequency and
strong vibration places for a long time.
4. The protection level of the lamp body is IP66, and the anti-corrosion level can reach WF2. It has excellent anti explosion, dust-proof,
waterproof and anti-corrosion capabilities.
5. Various installation methods such as ceiling, wall, U-shaped shockproof support (adjustable angle) can be adopted as required.
| | |
| --- | --- |
| Type | BZFT8260S |
| Material | Aluminium |
| CCT | 3000K-6500K |
| Voltage | 220V(Customized) |
| Power | 70W-120W |
| Light effect | 120LM/W |
| Beam angle | 90° |
| Explosion-proof mark | Exd IICT6 Gb/ ExtD A21 T80℃ |
| Protection class | IP66 |
| Anticorrosion grade | WF2 |
| Size | 299*186*174mm |
| | |
| --- | --- |
| Type | BZFT8260S-T |
| Material | Aluminium |
| CCT | 3000K-6500K |
| Voltage | 220V(Customized) |
| Power | 70W-120W |
| Light effect | 120LM/W |
| Beam angle | 45°/60° |
| Explosion-proof mark | Exd IICT6 Gb/ ExtD A21 T80℃ |
| Protection class | IP66 |
| Anticorrosion grade | WF2 |
| Size | 299*186*174mm |
| | |
| --- | --- |
| Type | BZFT8260M |
| Material | Aluminium |
| CCT | 3000K-6500K |
| Voltage | 220V(Customized) |
| Power | 80-200W |
| Light effect | 120LM/W |
| Beam angle | 90° |
| Explosion-proof mark | Exd IICT6 Gb/ ExtD A21 T80℃ |
| Protection class | IP66 |
| Anticorrosion grade | WF2 |
| Size | 324*276*174mm |
| | |
| --- | --- |
| Type | BZFT8260M-T |
| Material | Aluminium |
| CCT | 3000K-6500K |
| Voltage | 220V(Customized) |
| Power | 80-200W |
| Light effect | 120LM/W |
| Beam angle | 45°/60° |
| Explosion-proof mark | Exd IICT6 Gb/ ExtD A21 T80℃ |
| Protection class | IP66 |
| Anticorrosion grade | WF2 |
| Size | 324*276*174mm |
| | |
| --- | --- |
| Type | BZFT8260L |
| Material | Aluminium |
| CCT | 3000K-6500K |
| Voltage | 220V(Customized) |
| Power | 150-300W |
| Light effect | 120LM/W |
| Beam angle | 90° |
| Explosion-proof mark | Exdemb IICT6 Gb/ ExtD A21 T80℃ |
| Protection class | IP66 |
| Anticorrosion grade | WF2 |
| Size | 425*315*296mm |
| | |
| --- | --- |
| Type | BZFT8260L-T |
| Material | Aluminium |
| CCT | 3000K-6500K |
| Voltage | 220V(Customized) |
| Power | 150-240W |
| Light effect | 120LM/W |
| Beam angle | 45°/60° |
| Explosion-proof mark | Exdemb IICT6 Gb/ ExtD A21 T80℃ |
| Protection class | IP66 |
| Anticorrosion grade | WF2 |
| Size | 425*315*296mm |