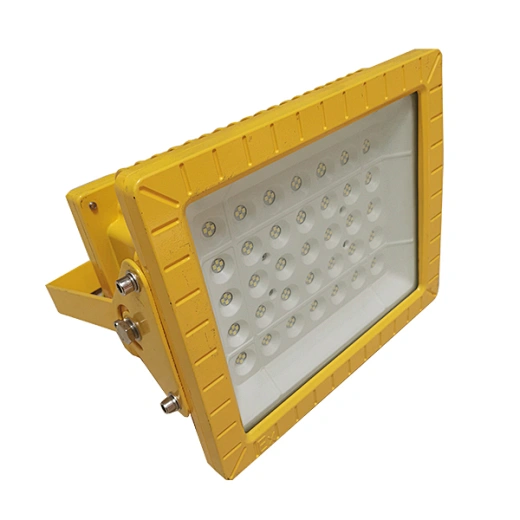 CFT3 Exd IIC T6 Aluminum LED 85-265V 100W/150W/200W Explosion Proof Flood Light
CFT3
Marine Led Explosion-Proof Flood Light - CFT3
Explosion-proof mark: Exd Ⅱ BT2
Voltage: 90V~265V
Power: 70W, 120W, 150W , 200W
Light source: LED
LM Luminous flux: 7000LM / 12000LM / 15000LM / 20000LM
Cable outside diameter: Φ11~ Φ13
Protection class: IP56
The explosion proof led flood light is applied to all kinds of the explosion-proof required ships, dock, store place, oil platform, and stadium for illumination, especially used in the environment with high explosion-proof and wide application scope. The shell is made of high tensile aluminum alloy material. It has the ability of high corrosion-proof and shockproof. The lampshade is made of toughened glass with good mechanical and chemical performance. The reflector adopts a high purity aluminum plate that has a good effect through exact light distribution. The floodlights can be adjusted up and down flexibly with 45 degrees and adopt a good LED lamp with energy-efficient.
The scope of application
Applied to illumination of explosive gas place zone 1 or zone 2.
Products characteristic
1. The shell is made of good quality brass foundry toughened glass lamp-shade, with brass guard.
2. The gland has two kinds, one is tube screw type, screw is G3/4, another one is bugle-type.
Production authentication
1. The light adopt LED, with compact and reasonable structure and ensure the explosion-proof performance.
2. The light can be adjusted arbitrarily within ±45 degrees in the vertical direction.
3. The lamp body is made of high-strength aluminum alloy, has high resistance to strong collision and impact
4. The transparent part adopts high-strength tempered glass, able to withstand high mechanical strength and temperature fluctuations
5. The reflector is made of high-purity aluminum plate, the surface is treated with orange striated anodization, and the reflective efficiency is high through accurate light distribution design.
Adopt standard
Conform to International IEC standard and GB3836. GB7000.7-2005
| | |
| --- | --- |
| Model | CFT3 |
| Explosion-proof mark | Exd IIBT2 |
| Voltage | 90-265V |
| Power | 70-200W LED |
| Material | Aluminum |
| Protection class | IP56 |
| Cable outside Diameter | Φ11-Φ13 |