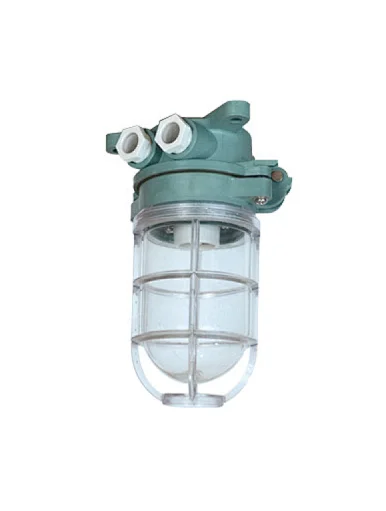 Waterproof Marine Incandescent Work Light - DS7-2M
IMPA CODE: 792053-792062
Marine pendant light, mainly used for illuminating a working area such as in engine rooms and stores in ships. Water and vibration proof.
Bozhou Marine is specializing in the production and sales, research and development of a variety of marine electrical equipment. At present, our main products include: marine navigation signal lights series, marine led lights, marine fluorescent lights, marine incandescent lights, marine flood lights, marine search lights series, marine explosion-proof light series, electrical connectors series, electric bells, marine bulbs and other kinds of marine fittings, yacht fittings.
The scope of application
This series lights fit for the ships with water dripping, water spattering, water coagulating and weather place, such as oven cabin room, dry cabin, tunnel, pipeline and weather deck.
Products characteristic
The lampshade is bolt blocking device, and convenient to connect, ceiling-type installation.
Production authentication
1. Approval by CCS(China Classification Society), certificate number ZJ20P4028-4.
2. Passed the authentication of CE.
3. Adopt the Japanese standard JISF8414-2003.
4. Conform to《 GRADE ENTRY NORMS FOR STEEL SHIPS 》.
IMPA Code

Model

Power

Voltage

Lamp holder

Material

Color

Cable diameter

Protection class

792053

DS7-1M

15W

24V

FE12 / FE14

Synthetic resin

Transparent / Red / Green / Yellow / Blue

Φ12-Φ16

IP56

792054

FB15

792057

DS7-2M

60W

220V

FE26

792058

FB22

792057-B

DS7-2M-B

60W

220V

FE26

792055

DS7-2M-A

Aluminium

792059

DS7-3M

100W

220V

FE26

Synthetic resin

792060

792062

DS7-4M

200W

220V

FE26