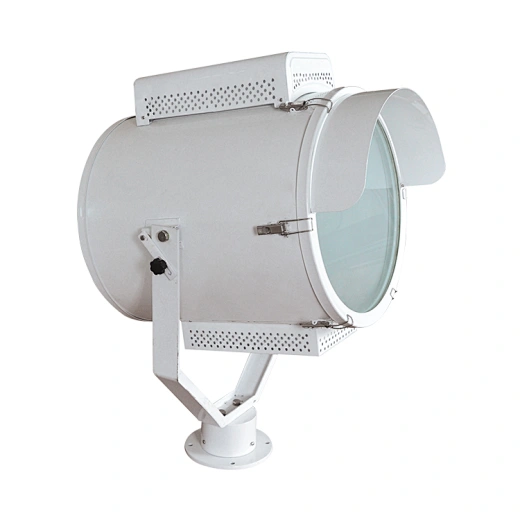 TZ2/TZ3/TZ4 S.S. Xenon Halogen 100-230V 2000-3000W Marine Searchlight
TZ2 TZ3 TZ4
The scope of application
Applied to remote illumination of ship night navigation, lifesaving, warning etc, and aim searching.
Products characteristic
1. Equipped the sphere toughened glass reflector and the device of focus adjustment which can adjust the focus up and down, front and black neatly, and has the functions such as high luminlus intensity, far illumination distance.
2. TZ3 Has stainless steel shell, ball plate mounted on base, also equipped with lifting gear which can control the light body by hand to rotate for 350° horizontally and pitching 30°, Equipped the electical box when supply DC110V please remark clearwhen order.
3. TZ3-A Has stainless steel shell, a micro motor is mounted on base, and can operate the light body to rotate for 350° horizontally and pitching 30° by controller,with the remote control focus function,with two type (fast/slow) rotating speed can be choose, which is convenient for irradiating target accurately.
4. With two independent exhaust system inside, effectively for reducing the temperature of the lamp.
5. Patent No.:ZL 2014 2 0804541.5,ZL 2015 2 0410378.9 ZL 2015 2 0410358.1,ZL 2015 2 0410386.3.
TZ2  TZ2-A
Model

TZ2

TZ2-A

Voltage

110V / 220V

Power

2000W

Luminous flux

120000LM

Lamp holder

Special

Light source

Sphericity mercury xenon lamp

Protection class

IP55

Cable outside Diameter

Φ10-Φ12

Material

Steel

Stainless steel

Annex

Control lever

Remote controller
TZ3  TZ3-A
Model

TZ3

TZ3-A

Voltage

110V / 220V

Power

3000W

Luminous flux

52800LM

Lamp holder

G38

Light source

Incandescent focus lamp

Material

Stainless steel

Protection class

IP55

Cable outside Diameter

Φ14-Φ16

Annex

Control lever

Remote controller
TZ4  TZ4-A
Model

TZ4

TZ4-A

Voltage

110V / 220V

Power

3000W

Luminous flux

180000LM

Lamp holder

Special

Light source

Sphericity mercury xenon lamp

Protection class

IP55

Cable outside Diameter

Φ10-Φ12

Material

Steel

Stainless steel

Annex

Control lever

Remote controller