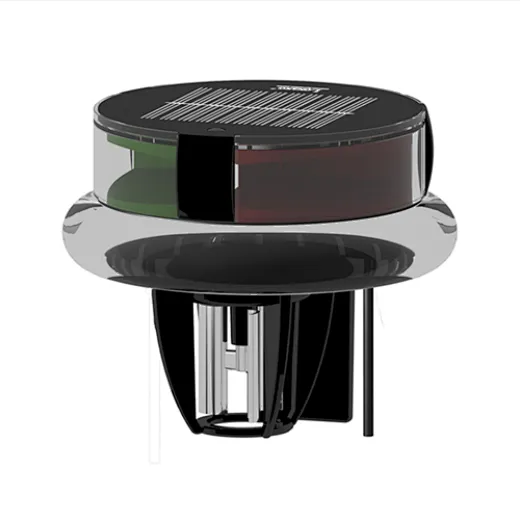 Yacht Led Navigation Signal Light BZYX60-TFD
BZYX60-TFD
The upper part of the navigation safety light is to realize the functional requirements of navigation light, and the lower part of the warning light can realize the functional requirements of anchor light, obstacle light, distress signal light, position indication light and emergency lighting equipment. The top part of the light has solar panel and light sensitive probe, the bottom part of the light has wind blade, external power cord and power button to control the warning light. Each light is equipped with a wireless remote control for switching the function of the warning light.
1. External 8~33v external power supply can be connected, and it comes with a lithium battery that can be charged by solar and wind energy to ensure the normal operation of the light.

2. In the obstacle light function, it can rely on its own photosensitive system to identify the light intensity, automatically start at night and in low visibility weather conditions, and automatically turn off during the day.

3. Multiple functions of the warning light can be switched by wireless remote control, easy to operate, truly realizing the function of"one light for all purposes"on board.
Type

BZYX60-TFD

Functional status

Navigation lights

Anchor light

Warning light

Obstruction light

Indicator light

Fault indicator

Distress light

Emergency light

Light color and angle

112.5° red & 112.5° green & 135° white

360° white

360° red

360° red

360° red

360° white

360° white

Luminous type

Normal

Normal

Gradual blinking

stroboscopic

Normal

SOS

Normal

Max viewing distance

Normal > 2n mile

Normal >2n mile

Flashing >1.5n mile

Flashing >1.5n mile

Normal >1.5n mile

Flashing >2n mile

Normal >2n mile

Maximum continuous working time

It can be used continuously as long as it is switched on

>300h

>300h

>12h

>20h

>12h

Start method

External power switch control

Light sensitive

Wireless remote control

Power supply

DC 8~33V external power supply

Built-in lithium battery

Light source

High Efficient LED

Remote control distance

More than 20m

Battery charging energy

Solar, wind and DC8~33v external power supply

Max wind resistance level

 12 wind

Working temperature

-30~+65 ℃ (-22 ~+149 ℉ )

Dimension

Main body : 115*99.1mm

Weight

Lamp and wireless remote : 392g     Bracket and screws : 125g    bracket : 56g

Power cord length

1m

Ingress Protection

IP56

Performance

UV-resistant, Fire-resistant, Oil-resistant, Mould-proof, Corrosion-proof Approval

Standard

CIOREG72, EN14744, IEC60945