Revolutionizing Maritime Lighting: The Cool Story of LED Navigation Lights
author: Bozhou
2023-08-05
Ahoy, sailors and curious minds! Let's set sail on a voyage through the fascinating world of marine LED lighting. You see, in the grand realm of navigation, those trusty marine lighting gadgets have always been like the guiding stars of the sea. They keep ships on the right track during moonlit voyages and make sure everyone onboard has a comfy work environment. But wait, there's a plot twist: the old-school marine lights faced some grumpy challenges like being energy hogs, needing constant replacements, and burning holes in the pocket with their maintenance bills. Enter: LED technology!
Chapter One: Shining a Light on the LED Revolution at Sea
Picture this: traditional maritime lights hogging energy like a hungry seagull grabbing fries at the pier. But now, queue the LED heroes! Light Emitting Diodes, or LEDs for short, come to the rescue with their superpower – being crazy energy-efficient. They stay lit up longer and brighter, all while sipping on less energy. It's like they have a secret stash of solar energy.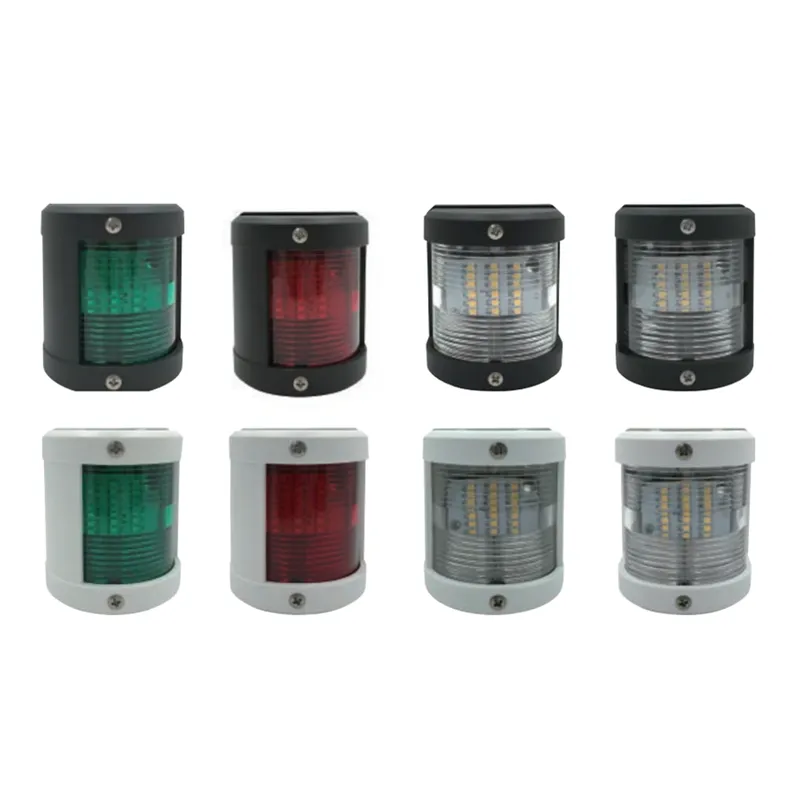 Chapter Two: LEDs Go Nautical – The Big Splash in Marine Lighting
Hold onto your lifebuoys, because LED tech isn't just for your TV remote anymore. It's taken over maritime lighting like a captain claiming a new island. Imagine LED lights turning ships into floating rainbows – red for the left side, green for the right, and white for the tail end. But here's the kicker: they're like those glow-in-the-dark stars you stuck on your bedroom ceiling as a kid – they stay lit for ages! Talk about a lighting marathon.
Chapter Three: Perks Ahoy – LED Goodies for Ships
Ahoy, benefits ahead! First mate, energy efficiency, reporting for duty. LEDs are like the ship's energy-saving mascot. They cut down on energy use, making ship operations smoother than a calm sea breeze. Maintenance? It's like bumping into a friendly dolphin instead of a stormy wave. LEDs last longer, so no more constant lightbulb swaps. Crew members, rejoice!
Chapter Four: Sailing into the Future with Smart LEDs
Hold tight, because we're sailing into the future with some serious LED tech. Imagine lights that dim and brighten like magic based on how much daylight is around. These smart LEDs make sure you're not blinded by your own ship's lights during those nighttime adventures. And guess what? They're making friends with other ship systems, like radar and GPS. Teamwork makes the maritime dream work!
Chapter Five: Saving the Planet, One LED at a Time
Set your eco-compass to "green" because LEDs are earth's buddies. They save energy, which means they're helping reduce those pesky carbon footprints. Also, they're not fans of light pollution – they keep their light where it's needed, on the ship and in the sea, not up in the sky bothering stargazers.
Chapter Six: LED Adventures Beyond the Horizon
Hold onto your sailor hats, because LEDs are setting sail toward innovation island. Scientists, lighting wizards, and ocean adventurers are teaming up to make LEDs even better. They're making them tougher, smarter, and more reliable, all to keep ships and their crews safe and sound.
Chapter Seven: Setting Sail with LED Navigation Lights
Ahoy, thrill-seekers and ocean explorers! Get ready to dive deeper into the magical world of LED navigation lights. These high-tech heroes aren't just your average lights – they're like the GPS for ships, guiding them through the dark waters and helping them avoid epic collisions.
1. Supercharged Brilliance
Imagine your regular light bulb taking a shot of energy drink and turning into a superstar – that's an LED navigation light. They shine so bright, it's like they're auditioning for a lighthouse role. These lights are like neon signs of the sea, catching the eye of sailors near and far.
2. Colors that Speak
LEDs aren't just about brightness; they're also experts in color coding. Think of them as traffic signals for the ocean. When you see a red light, you know it's the ship's left side. Green? That's the right side. And if you spot a white light at the back, that's the tail end of the ship. It's like a secret maritime language that keeps ships dancing harmoniously in the dark.
3. LED Longevity
Remember how your pet goldfish didn't last long? Well, LED navigation lights aren't like that. They're the immortal elves of the lighting world. They glow and glow, refusing to burn out like a stubborn campfire. That means fewer replacements, less time fixing things, and more time enjoying the salty breeze.
4. Weather Warriors
Ever seen a stormy sea? It's like a wild dance party out there. But while regular lights might get seasick, LED navigation lights stand strong. They're the ultimate party crashers, lighting up the ship even when the ocean's throwing a tantrum. Rain, wind, or waves – they couldn't care less.
Chapter Eight: The LED Voyage Continues
As our LED adventure sets sail, there's no end in sight. Think of it as an endless ocean of possibilities. Researchers and inventors are teaming up to make these lights even smarter. Imagine lights that know when to shine bright and when to go easy, just like a chill captain guiding a ship.
So there you have it, fellow sailors and curious minds! The story of LED navigation lights is like a blockbuster movie, full of energy-saving heroes, colorful codes, and lights that laugh in the face of storms. They're not just lights; they're the future of maritime navigation, making journeys safer, more efficient, and more vibrant than ever. So next time you're on a ship under the starry sky, remember that those LED navigation lights are the stars that keep everyone sailing smoothly. Keep exploring and keep shining, adventurers!